Fresh FODMAP Free Organic Bone Broth Shipped to Your Door!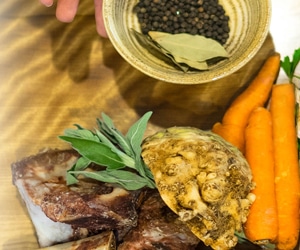 You'll get all the healing qualities of the broth, without the unbearable gastrointestinal symptoms. Target gut healing and lower inflammation with:
Leaky Gut
Post-surgery
SIBO (small intestine bacterial overgrowth)
IBS (irritable bowel syndrome)
Autism
Autoimmune (Hashimoto's, etc.)
IBD (Crohn's and ulcerative colitis).
GutRx Gurus organic FODMAP bone broths have all the good stuff you need.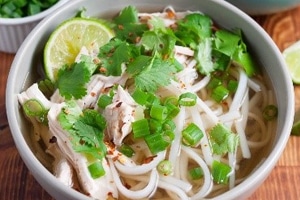 12 grams of protein per cup
Easy to digest and absorb amino acids like proline and glycine
Rich in collagen, glucosamine and chondroitin
Rich in trace minerals and electrolytes
It is healing, convenient and damn tasty
My broth gels and jiggles! That's because it is rich in gut healing gelatin!
For our sensitive customers, we have a broth for you!
We list ALL our broth ingredients on our nutrition labels
Manufactured in OUR facility. No nuts, gluten, grains, dairy or corn are processed in the same facility
All our broths are SIBO Specific Food Guide Diet compliant!
We offer a shorter cooking time with our Short Simmer Bone Marrow broth, to reduce the gelatin and GAGs (glycosaminogycans) content, which may trigger symptoms in our most sensitive customers.
Our Short and Long Simmer Bone Marrow Broths are also SCD legal!
What People are Saying About GutRx Bone Broth
"I was introduced to Cauldron Broth's after being diagnosed with SIBO, Candida and Leaky Gut. All came from 3 recurrences of CDiff that left my intestines ravaged by bacterial infections. It has been the one thing in all my journey of healing – over supplements, medication, vitamins, medical treatments, acupuncture, neuromuscular work – that has brought about the most healing into my gut. The first weekend I drank their bone broth continuously was the first time in months my stomach was calm. I am still on this road to healing but my biggest tool continues to be GutRx bone broths. I cannot endorse it more for the healing of your gut."
"Yes, it was yummy. Good! It was so nice to know that I can find low FODMAP broths when I don't have time to make my own. The broths that I ordered were delicious!"
"The flavor was awesome — I was expecting something either too strong or too bland and yours was perfect. Positive."
"Loved the flavor; yes I enjoyed it greatly! Perfect! I loved the chicken bone broth I ordered. I've tried to make it on my own with no luck. This had a lovely flavor, and I plan to order more very soon!"
"Yes. Definitely. Excellent. It takes time and attention to make high quality bone broth at home. Cauldron Broths is an excellent and delicious alternative for those who recognize the benefits of daily bone broth and want to nourish themselves without the hassle."
"These broths are super yummy, and I love that they are responsibly sourced."
"YUM! THANK GOODNESS FOR CAULDRON! My PT recommended that I consume 2 cups a day to expedite my healing process. While I enjoy making my own, damn it takes a long time, which I don't always have. Now I can still get all my nutrients and play on Sundays! Good ingredients, good people, and really tasty. Can't wait until they hit the shelves at the coop.

Yesterday, my man came down with the stomach flu and their broth fixed him right up. Thanks for being there Cauldron!"
"I used this to settle my gut down after an ulcerative colitis flare and it worked like a charm. I used it for three days and then I started to use the long simmer. This broth kept me off of steroids!"
"I am a big fan of both the chicken and the short simmer beef bone broth. I've made chicken bone broth here at home and it was just not worth the time and effort it took to make it. In the end, it didn't have the correct consistency and did not taste as good as the GutRx brand. Awesome medicinal food!"
"I bought the GutRx chicken bone broth and it didn't give me any flare ups at all or any sort of uncomfortable symptom it felt so nourishing and the taste was very flavorful I loved it and more because it was easy than doing bone broth which takes hours but I really loved the taste I didn't even have to salt it"